Dec 16, 2018

- Version 3.0.98.0 of the App Released

The new version of the RubiksCubeRobot application allows you to use it with any Pololu Maestro controller, not only the 12-channel one.

Also, to evaluate the app, you no longer need an evaluation registration key. This allows you to evaluate the app for as long as you need, without any time constraints. In the evaluation mode, the app is limited in functionality but slightly scrambled cubes can still be solved.

Upgrading is absolutely free for the registered users but your key needs to be re-activated in the KEY window.
---
Nov 01, 2018

- Dedicated Web Site RCR3D.com Launched

Our Rubik's Cube Solving Robot now has a dedicated web site at

www.rcr3d.com

. The information, which used to be crammed into a single page at

otvinta.com

, is now conveniently split into 3 separate pages:

Introduction

,

Hardware

and

Software

. There is also a separate

What's New

section. The web site is optimized for a wide range of mobile devices
---
Sep 10, 2018

- Version 3.0.96.0 of the App Released with improved solving algorithm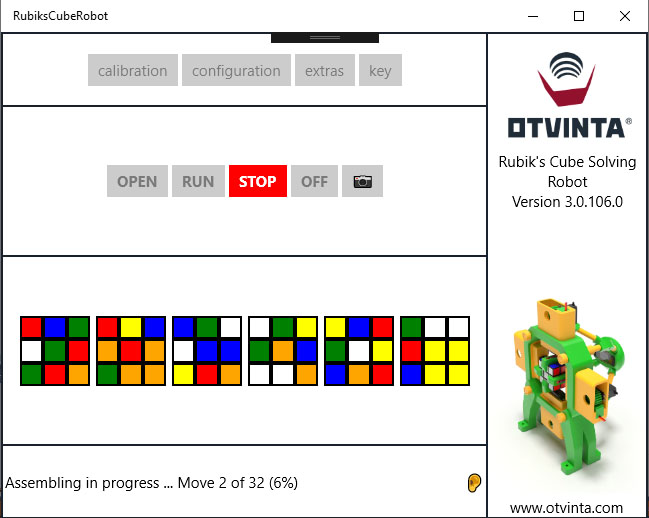 The new version of the app incorporates the following improvements:
A much faster cube solving algorithm. While the previous version needed 45 moves on average, the new version only needs around 30.
During a run, all buttons except STOP are disabled. Previous versions allowed the RUN button to be pressed multiple times, which caused exceptions and robot malfunctions.
A progress indicator is shown during photographing.In the previous versions, the progress indicator was limited to the solving phase.
Several minor bugs have been fixed.
Upgrading is absolutely free for the registered users.
---
Jun 21, 2018

- Our Robot is Featured on Weather Channel's Rockets are Cool page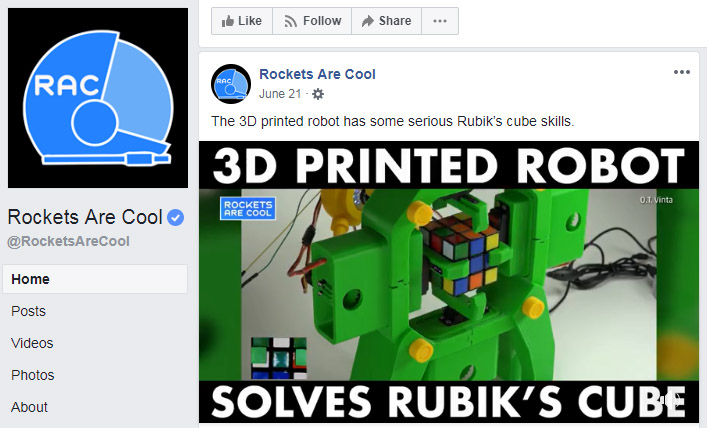 This popular Facebook group with 1.5 million followers chose to feature our robot TWICE within one year. The first time was on Nov 8, 2017.
---
May 10, 2018

- A tiny rubber ring that makes a big difference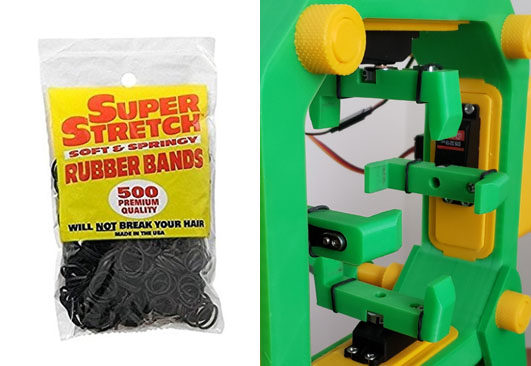 Occasionally, a retracting gripper may drag the cube along with it. We have discovered an amazingly effective and very cheap cure for this problem: tiny rubber bands women use for their ponytails. Putting two of these rubber rings around each of the grippers dramatically increases friction between the grippers and cube, and eliminates the dragging problem almost completely.
---
Feb 23, 2018

- Version 3.0 of the App Released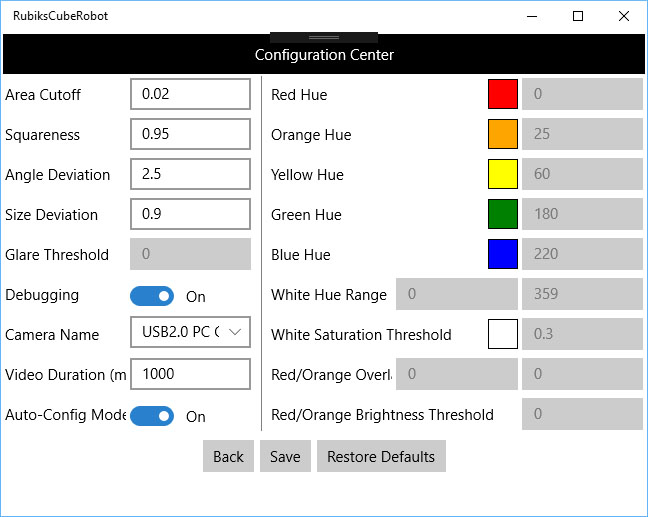 Version 3 offers an auto configuration mode of operation. In this mode, the app does not need any configuring whatsoever. The new version of the app also performs error correction, which greatly reduces color recognition-related failures. Another important enhancement is that instead of taking static photos, the app now shoots short videos and uses the last frame for analysis. This artificial delay in image capturing allows the camera to adjust to the current lighting conditions and produce more vivid, easier-to-analyze images.
---
Dec 11, 2017

- New Wide Camera Replaces Old Round Camera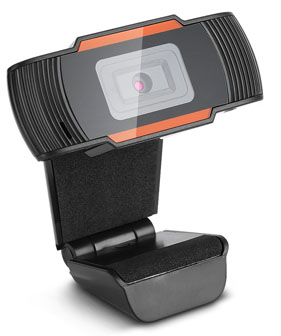 The new wide webcam has much better color reproduction than the old round one, even in poor lighting conditions. Plus it has a wider lens and therefore can be placed closer to the cube, which makes the robot more compact depth-wise. It is also easier to install and adjust.
---
Aug 27, 2017

- Our Robot is Featured on Thingiverse

We are happy and proud to announce our Rubik's Cube Solving Robot is featured on MakerBot Thingiverse, the largest 3D printing community in the world.
---
Aug 17, 2017

- The first-ever fully 3D printed Rubik's Cube Solving Robot released
This robot has all the features of a real robot: servos, arms, gears, vision, artificial intelligence, and a task to complete. The robot is fully 3D-printed: other than the servos and electronics, it has no traditionally manufactured parts. It is the perfect machine to introduce robotics to children of all ages.